¿Who's The Cuban? est leur nouveau nom et il débarque le 29 mars 2019 à Paris pour nous faire découvrir leur premier album Circo Circo, dont le premier single Buscando Una Forma de Liquidarte est dans la pure tradition cubaine. Toutes les informations musique sur Bulles de Culture.
¿Who's The Cuban? : eh bien, dansez maintenant !
Après avoir donné plus de 500 concerts et produit trois albums, le combo franco-cubain autrefois nommé Son Del Salón change de nom de scène et devient ¿Who's The Cuban? Ça bouillonne et comme c'est l'arrivée du printemps que nous allons bientôt fêter, Bulles de Culture vous présente Buscando Una Forma de Liquidarte, leur nouveau clip qui commence comme le générique de la série Dexter. 
Avec l'album Circo Circo, ¿Who's The Cuban? s'affranchit de la pure tradition de la musique cubaine et y associe une énergie rock et des musiques actuelles. Furieusement dansant et inspiré, ce groupe de six musiciens fait sa révolution musicale, avec un nouveau répertoire qui a pour point d'équilibre la croisée des personnalités et des cultures. De La Havane à Liverpool, en passant par l'Afrique et les Caraïbes, c'est tout un voyage que propose le sextet.
Pas facile de distinguer un Cubain avec un accent lorrain qui chante en espagnol mais ¿Who's The Cuban? compte bien faire danser avec l'album Circo Circo qu'on promet riche. Grâce à une tournée dans toute la France et une date à Paris le 29 avril au chaleureux New Morning, ce sera l'occasion de s'en rendre compte.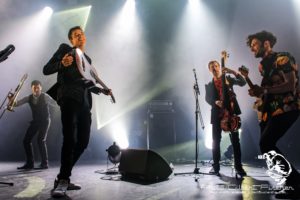 En savoir plus :
Circo Circo, l'album de ¿Who's The Cuban?, sort le 29 mars 2019 chez L'Autre Distribution
¿Who's The Cuban? est en concert le 29 avril 2019 au New Morning, club de jazz parisien situé dans le 10ème arrondissement (France)
Les derniers articles par Luigi Lattuca
(tout voir)