Robbie Williams est en cette année 2019 l'un des artistes musicaux qui proposeront un album de reprises de chansons de Noël sur le label Sony Music. L'artiste va d'ailleurs se montrer très généreux avec ses fans en leur proposant un double disque. Découvrez la tracklist de The Christmas Present avec Bulles de Culture.
Robbie Williams : sortie de The Christmas Present le 22 novembre
L'un des artistes les plus récompensés de la planète — et l'un des plus vendeurs avec plus de 80 millions de disques écoulés — fait son grand retour. Robbie Williams  fête en effet le chiffre 13 en publiant un nouvel album studio. Son treizième disque donc est un nouveau challenge pour le chanteur anglais puisqu'il s'attaque à un répertoire bien aimé du grand public : celui de la chanson de Noël. Sur la pochette du disque, il apparaît comme tout droit sorti d'un court-métrage Disney sur ce thème. Des reprises et des chansons originales son prévues, et vous aurez un mois pour apprendre le tout et égayer vos invités lors du réveillon puisque le disque, The Christmas Present (comprenez Le cadeau de Noël), paraîtra le vendredi 22 novembre 2019 chez tous les disquaires et les plateformes bien connues.
Une pluie de chansons dans des formats différents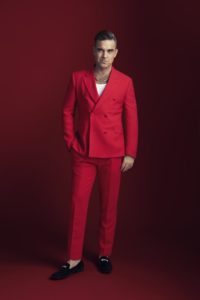 Disponible en CD (standard et deluxe), vinyle et cassette, ce double album The Christmas Present est divisé en listes Christmas Past (les classiques) et Christmas Future (chansons originales dont un duo avec Rod Stewart). La version deluxe CD avec ses quatre chansons bonus inclue un second duo avec Rod Stewart.
La tracklist de The Christmas Present :
Disque 1 : Christmas Past
1. Winter Wonderland *
2. Merry Xmas Everybody featuring Jamie Cullum *
3. Let It Snow! Let It Snow! Let It Snow! *
4. The Christmas Song (Chestnuts roasting on an open fire) *
5. Coco's Christmas Lullaby
6. Rudolph
7. Yeah! It's Christmas
8. It's A Wonderful Life featuring Poppa Pete
9. Let's Not Go Shopping
10. Santa Baby featuring Helene Fischer *
11. Best Christmas Ever
12. One Last Christmas
13. Coco's Christmas Lullaby Reprise
 
Disc 2: Christmas Future
14. Time For Change
15. Idlewild
16. Darkest Night
17. Fairytales featuring Rod Stewart
18. Christmas (Baby Please Come Home) featuring Bryan Adams *
19. Bad Sharon featuring Tyson Fury
20. Happy Birthday Jesus Christ
21. New Year's Day
22. Snowflakes
23. Home
24. Soul Transmission
-Bonus tracks
25. I Believe in Father Christmas *
26. Not Christmas
27. Merry Kissmas
28. It Takes Two featuring Rod Stewart *
En savoir plus :
The Christmas Present, l'album de Noël de Robbie Williams, sort le 22 novembre 2019 chez Columbia Records (Sony Music Entertainment)
Site officiel de Robbie Williams
Les derniers articles par Luigi Lattuca
(tout voir)