Dernière mise à jour : février 13th, 2020 at 09:42
James Eleganz, l'ancien leader breton du groupe Success au début des années 2000, revient du mythique studio américain Rancho De La Luna avec dix chansons à la saveur classic rock sous le bras. L'album The Only One a été produit par une figure légendaire, Larry Mullins, aka Toby Dammit (ancien batteur des Stooges, et clavier de Nick Cave). L'avis et critique musique de Bulles de Culture sur ce nouveau disque.

 The Only One : James Eleganz romantique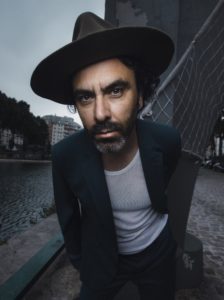 Album solo au romantisme noir, The Only One est une invitation au voyage sur fond d'americana (Hide Away, The Horse Song, Forgive Me Forget Me et The Only One en tête) où on retrouve une autre pointure légendaire du rock en la personne de Mike Watt, bassiste des Stooges et fondateur des Minutemen. Pour ce nouveau disque, James Eleganz est le premier Français à enregistrer au légendaire studio Rancho De La Luna en Californie où tant de disques mythiques (Queens of the Stone Age, Arctic Monkeys, Marc Lanegan…) ont vu le jour. Après avoir dévoilé un premier extrait il y a quelques mois dans le clip de Lasso The Moon, James Eleganz a ensuite révélé le clip de The Only One puis celui de The Wedding Song, qui forme tous les trois ce qu'il a nommé The Californian Trilogy.
Une aventure débutée après un concert de Nick Cave
Pour la petite histoire, James Eleganz a rencontré Isabelle Chapis, directrice du label ZRP, en marge d'un concert de Nick Cave. Enthousiasmée par les démos du Rennais, elle décide de produire l'album et se met en quête d'un réalisateur artistique. Elle ne le savait pas mais celui qu'elle cherchait se trouvait à quelques mètres, sur la scène du Zénith. Toby Dammit est, en effet, le clavier des Bad Seeds et fut longtemps batteur d'Iggy Pop, les deux piliers artistiques de « l'élégant ». Dammit choisit donc un studio mythique, situé en plein désert, le Rancho De La Luna. James Eleganz devient donc le premier artiste français à y enregistrer !
L'album The Only One (de 10 titres) est un régal à écouter en soirée avec lumière tamisée pour vous emporter ailleurs. Noyé dans les roots américaines et les traditions musicales qui ont fait l'histoire musicale américaine (folk, country, etc.), il vient de paraître. Le titre The Wedding Song le clôture en apothéose.
En savoir plus :
L'album The Only One de James Eleganz est sorti le 12 avril 2019 sur le label ZRP
Les derniers articles par Luigi Lattuca
(tout voir)