Dernière mise à jour : novembre 2nd, 2018 at 03:00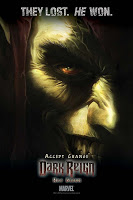 Franchement, ils l'ont cherché ! Depuis leur désastreuse "Guerre Civile" (saison 2006), les héros de l'univers Marvel ont emporté de justesse une victoire amère, contre un ancien allié qu'ils avaient trahi, au terme d'une lutte qui a intégralement nivelé New-York ("World War Hulk", saison 2007) et échappé de peu à l'attaque générale des Skrulls, dangereux aliens métamorphes ("Invasion Secrète", saison 2008).
Quite frankly, they had it coming! Ever since their disastrous "Civil War" (season 2006), the heroes from the Marvel Universe have won a bitter victory by a hair's breadth, against a former ally they had betrayed, at the end of a fight that completely levelled New-York City ("World War Hulk", season 2007), and then barely managed to avert the global attack that the shape-shifting alien race known as the Skrulls led on Earth ("Secret Invasion", season 2008).
Résultat ? Iron Man est destitué de son poste à la tête du S.H.I.E.L.D. et la compagnie de Tony Stark est en ruines après qu'un virus informatique des Skrulls ait rendu sa technologie obsolète… Qui, dans ce cas, serait à même de remplacer Stark après un tel fiasco ? Et pourquoi pas le chef des Thunderbolts, qui a mis fin à l'invasion en tuant la Reine des Skrulls et est apparu aux yeux de la terre entière comme un sauveur : Norman Osborn !
Non, vous ne rêvez pas : depuis une douzaine de mois, un psychopate meurtrier régit l'univers Marvel d'une main de fer ! Oubliez le Bouffon Vert grimaçant que vous croyiez connaître ! Pour ceux que la prestation hagarde de Willem Dafoe dans le film de Sam Raimi a moyennement convaincu, attendez-vous à redécouvrir un des vilains les plus tenaces de l'histoire des comics ! Réinventé durant les saisons post-Guerre Civile par le scénariste Warren Ellis, qui le place à la tête de l'équipe composée d'anciens vilains réformés, les Thunderbolts, "Stormin' Norman" est littéralement transcendé dans "Dark Reign" !
Désormais directeur du H.A.M.M.E.R., l'agence qu'il a bâtie sur les cendres du S.H.I.E.L.D., ainsi que nouveau leader des "Vengeurs Noirs" sous une armure volée à Tony Stark (et qu'il a repeinte pour l'énerver !), Osborn est LA raison qui vous fera aimer cette saison 2009 comme aucune autre. Autant vous resterez bouche bée devant sa gestion impitoyable et immorale de la communauté superhumaine, autant vous serez excité de voir qu'Osborn s'avère être une version pervertie, quoique tout aussi compétente, de Tony Stark ou même de l'ancien directeur du S.H.I.E.L.D., le général Nick Fury (qui dirige désormais dans l'ombre sa propre équipe de super-héros, les "Secret Warriors"). Aucun héros ne peut échapper à la vigilance d'Osborn – il apparaît dans toutes les séries – et pourtant tous, ennemis, mais aussi alliés de circonstance et surtout lecteurs, attendent avec impatience de voir comment il va, inévitablement, échouer !
Véritable joyau noir de la saison, la série des "Dark Avengers" suit les aventures moralement douteuses de l'équipe "officielle" d'Osborn composées d'anti-héros (Arès, Sentry) et de vilains déguisés en héros à l'insu général : Oeil de Faucun est en fait le tueur en série le Tireur (ennemi juré de Daredevil), le monstrueux Venom se fait passer pour Spider-man, etc.. Inutile de dire que, pour un acte d'héroïsme, ces Vengeurs commettent deux actes de vilenie ! Cependant, contrairement aux saisons précédentes, il n'y a pas dans "Dark Reign" de série centrale autour de laquelle les autres séries s'articuleraient. De sorte que, si l'on doit lui reconnaître un (petit) défaut, ce serait de ne pas toujours se soucier de la chronologie entre les différentes séries. Ainsi, par exemple, Clint Barton, capturé en septembre dans "The List – Avengers" alors qu'il tente de mettre seul un terme aux agissements de Osborn, est néanmoins toujours présent en octobre chez les Nouveaux Vengeurs (et en guest-star chez les "Mighty Avengers"). Néanmoins, cela ne gâchera en rien votre plaisir.
Mention spéciale à l'intrigue "L'homme le plus recherché du monde" dans "Invincible Iron Man". Pourchassé par le H.A.M.M.E.R. à travers le globe, Tony Stark entreprend d'effacer l'intégralité des informations contenues dans son cerveau afin de s'assurer que Norman Osborn ne mette pas la main sur le fichier recensant tous les super-héros, dont il possède désormais la seule copie. A mesure que l'intrigue se déroule, Stark perd lentement son intelligence, ce qui l'oblige à avoir recours à des armures de plus en simples, jusqu'à sa toute première armure primitive. Sorte de récit à rebours de la vie et de la carrière d'Iron Man, "L'homme le plus recherché du monde" marque le chemin de croix d'un héros qui, depuis qu'il a soutenu la loi de recensement dans la "Guerre Civile" et indirectement causé la mort de Captain America, est apparu aux yeux de beaucoup comme un quasi-vilain… Son sacrifice ultime revêt donc un caractère rédempteur d'autant plus émouvant qu'il apparaît absolument sincère et désintéressé.
Cette saison 2009 s'inscrit dans la brillante continuité d'un univers Marvel qui, depuis les inoubliables "Avengers Disassembled" de 2004 et "House of M" de 2005, se renouvelle de saison en saison en n'hésitant pas à bouleverser son statu quo. Pour citer Stan Lee, l'un des fondateurs de Marvel Comics : "Assez parlé !"
Sébou/세부
Séries du "Dark Reign" mentionnées dans l'article :
"Dark Avengers" : scénario de Brian Michael Bendis – dessins de Mike Deodato ;
"Mighty Avengers" : scénario de Dan Slott – dessins de Khoi Pham, Sean Chen ;
"Nouveaux Vengeurs" : scénario de Brian Michael Bendis – dessins de Stuart Immonen ;
"The Invincible Iron Man" : scénario de Matt Fraction – dessins de Salvador Larroca ;
"Thunderbolts" : scénario de Andy Diggle et Rick Remender – dessins de Roberto de la Torre, Pop Mahn, Carlos Rodriguez, Miguel Sepulveda et Mahmud A. Asrar ;
"Secret Warriors" : scénario Jonathan Hickman – dessins de Stefano Caselli et Alessandro Vitti ;
"The List – Avengers" : scénario de Brian Michael Bendis – dessins de Marko Djurdjevic.
Rédacteur en chef : Joe Quesada
Dan Buckley : éditeur
Alan Fine : producteur exécutif
Site officiel de Marvel Comics : https://www.marvel.com/.
Pour plus d'infos sur le Dark Reign : http://marvel.com/comics/Dark_Reign.
The result? Iron Man is demoted from his position as head of S.H.I.E.L.D. and Stark Industry is in ruin after a Skrull virus made his tech obsolete… Who, then, is best suited to replace Tony Stark after his fiasco? Why not the leader of the Thunderbolts, who by shooting down the Queen of the Skrulls put an end to the invasion and appeared to the world as a savior: Norman Osborn!
You're not dreaming: for almost a year, a murderous psychopath has been ruling the Marvel Universe with an iron fist! Forget the grimacing Green Goblin you thought you knew. For those who weren't too convinced by Willem Dafoe's dazed acting in Sam Raimi's movie, you can expect to rediscover one the most tenacious vilain from comics' history! Reinvented during the post-Civil War seasons by writer Warren Ellis, who put him in charge of the Thunderbolts program for reformed villains, "Stormin' Norman" is litteraly transcended in the "Dark Reign"!
Being now both director of H.A.M.M.E.R., the agency he built over the ashes of S.H.I.E.L.D., and leader of the "Dark Avengers" under an armor he "borrowed" to Tony Stark (and repainted to piss him off!), Osborn is THE reason why you'll come to love that 2009 season like no other. While you'll be in owe by his ruthless and immoral ruling of the superhuman community, you'll be thrilled to see how Osborn proves himself to be a twisted, yet highly capable, version of Tony Stark or of former S.H.I.E.L.D. general Nick Fury (now leader of the "Secret Warriors", his own superhuman covert action team). There is no hero that can escape Osborn's grasp, as he appears in every serie, and yet all, foes, circumstancial allies and of course readers, can't wait to see how he will inevitably fail!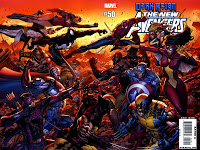 A black gem of the season, the "Dark Avengers" serie follows the morally dubious adventures of Osborn's government-sanctionned team made of anti-heroes (Ares, Sentry) and of villains disguised as heroes without the American people knowing: for instance, Hawkeye actually is the serial killer Bullseye (Daredevil's arch-nemesis), the monstruous Venom pretends to be Spider-Man, etc. Needless to say, for one act of heroism, those Avengers commit two acts of villainy! However, contrary to previous seasons, in "Dark Reign" there is no central serie around which the other series would be based on. Thus, if there is one (minor) default to point out, it would be that chronology inbetween series isn't always respected. For example, Clint Barton who has been captured in September in "The List – Avengers" while single-handedly trying to put an end to Osborn's mischief, is yet still present in October in "New Avengers" (and guest-stars in "Mighty Avengers"). Such defaults, nevertheless, won't spoil your pleasure.
Special mention goes to "Invincible Iron Man" storyline "World's Most Wanted". Hunted down by H.A.M.M.E.R. throughout the world, Tony Stark must erase his whole mind to ensure that Norman Osborn doesn't get his hands on the last existing copy of the superhuman registration database, which contains personal records and informations on many heroes. As the storyline unfolds, Stark slowly loses his intellect, which forces him to downgrade his own tech and use always simpler armors – down until his first primitive one. Going backwards throughout Iron Man's life and career, "World's Most Wanted" is like a purgatory for this hero who, ever since he supported the Registration Act in "Civil War" and indirectly caused Captain America's death, appeared to many as a quasi-villain… Therefore his ultimate sacrifice takes on the form of redemption, all the more moving that it is sincerely selfless.
This 2009 season finds its rightful place in the brilliant continuity of the Marvel Universe which, ever since the unforgettable "Avengers Disassembled" in 2004 and "House of M" in 2005, reinvents itself season after season by daring to turn its status quo upside down. To quote Marvel Comics co-funder Stan Lee: " 'Nuff said!"
Sébou/세부
"Dark Reign" series mentioned in this article:
"Dark Avengers" : writer Brian Michael Bendis – art by Mike Deodato;
"Mighty Avengers" : writer Dan Slott – art by Khoi Pham, Sean Chen;
"New Avengers" : writer Brian Michael Bendis – art by Stuart Immonen;
"The Invincible Iron Man" : writer Matt Fraction – art by Salvador Larroca;
"Thunderbolts" : writers Andy Diggle and Rick Remender – art by Roberto de la Torre, Pop Mahn, Carlos Rodriguez, Miguel Sepulveda and Mahmud A. Asrar;
"Secret Warriors" : writer Jonathan Hickman – art by Stefano Caselli and Alessandro Vitti;
"The List – Avengers" : writer Brian Michael Bendis – art by Marko Djurdjevic.
Editor in chief: Joe Quesada
Dan Buckley : publisher
Alan Fine : executive producer
Marvel Comics official website: https://www.marvel.com/.
For more info on Dark Reign: http://marvel.com/comics/Dark_Reign.

Les derniers articles par Sébastien Simon
(tout voir)