Dernière mise à jour : septembre 20th, 2015 at 09:19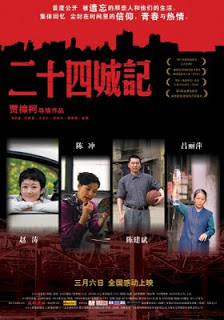 Mise en ligne par ARTE du film documentaire de Zhang Ke Jia (« Still life », « I Wish I Knew, histoires de Shanghai ») dans son intégralité : « 24 City » (« Er shi si cheng ji », 2008).
Synopsis : Chengdu, aujourd'hui. L'usine 420 et sa cité ouvrière modèle disparaissent pour laisser place à un complexe d'appartements de luxe : « 24 City ». Trois générations, huit personnages : anciens ouvriers, nouveaux riches chinois, entre nostalgie du socialisme passé pour les anciens et désir de réussite pour les jeunes, leur histoire est l'Histoire de la Chine.
Site officiel : http://www.advitamdistribution.com/spip.php?article8&KeepThis=true&TB_iframe=true&height=495&width=1000.
The television channel ARTE has uploaded the documentary film by Zhang Ke Jia (« Still Life », « I Wish I Knew, stories of Shanghai ») in its entirety but with French subtitles: « 24 City » (2008).
Plot: Chengdu, today. The factory 420 and shuts down to make way for a complex of luxurious appartments: « 24 City ». Three generations, eight characters: older workers, new Chinese rich, between nostalgia for the socialist past and desire for success for young people, their history is the history of China.
To learn more: https://secure.wikimedia.org/wikipedia/en/wiki/24_City.

Les derniers articles par Jean-Christophe Nurbel
(tout voir)