Dernière mise à jour : août 23rd, 2020 at 05:00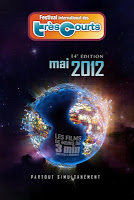 Du 4 au 13 mai 2012 aura lieu le festival des films de moins de 3 minutes pour découvrir le meilleur et surtout le plus court des nouvelles tendances audiovisuelles en provenance des quatre coins du monde.
From 4 to 13 may 2012 will take place will take place the Very Short International Films Festival (Festival international des Très Courts) with a myriad of Très Court (Very Short Films) chosen for their originality, their boldness, their sense of humour, their generosity, their bad taste… and maybe even for their technical qualities.
Projection dans une quinzaine de pays : Belgique, Brésil, Chine, Espagne, France, Israël, Liban, Maroc, Moldavie, Palestine, Pays-Bas, Roumanie, Singapour, Slovaquie, Serbie et Suisse.
En savoir plus :
– http://www.trescourt.com (site officiel) ;
– http://www.forumdesimages.fr/fdi/Festivals-et-evenements/Festival-international-des-Tres-Courts.
Screening of the films in about fifteen countries: Belgium, Brazil, China, France, Israel, Lebanon, Moldavia, Morocco, Palestine, Netherlands, Romania, Serbia, Singapore, Slovakia, Spain, Switzerland.
Official website: http://trescourt.com/?page=en_home.

Les derniers articles par Bulles de Culture
(tout voir)