Dernière mise à jour : juin 11th, 2016 at 04:18 pm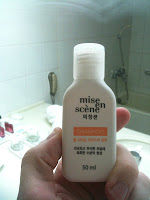 Tout d'abord, je ne résiste pas a l'envie de montrer cette photo de l'échantillon de shampooing que je trouve dans ma chambre d'hôtel. Une coïncidence pareille, c'est surement le signe qu'on est au bon endroit, au bon moment !
Firstly, I can not resist to show this picture of the sample of shampoo that I find in my hotel room. Such a coincidence ("mise en scène" means "placing on stage" in French), this is probably the sign that we are at the right place in the right time!
La cérémonie d'ouverture du 29ème Busan International Short Film Festival a donc eu lieu ce jeudi 10 mai 2012 dans la grande salle du Cinema Center. Chaleureuse et bien rythmée, la séance a alterné projections de films et discours du Maire de Busan Nam-Sik Hur, des dirigeants du festival (la présidente Na So-won, les codirecteurs Kang Il-do et Yang Yong-chul) et des membres du jury (les réalisateurs Dominique Cabrera, Byun Yung-joo et Jeon Kye-su). Le deuxième film diffusé était notamment "L'air d'aimer", le premier court-métrage professionnel de Dominique Cabrera. Invitée ensuite à monter sur scène, la réalisatrice française a fait part au public de son émotion à revoir ce film. En effet, c'était pour elle l'occasion de se remémorer le chef-opérateur Roger Millie et le monteur Jean-Bernard Bonis aujourd'hui décédés. C'était aussi l'occasion de revoir à l'écran son fils Victor, tout juste né au moment du tournage et déjà figurant de cinéma – aujourd'hui, il est un jeune cinéaste. Ainsi, a-t-elle dit, se révèle une des raisons d'être du cinéma : figer pour toujours un moment dans le temps, tout en permettant par la suite le travail de mémoire, à titre humanitaire aussi bien qu'à titre personnel.
Mais c'est avec en tête les mélodies de "Bud", un groupe de musique fusion de Busan, que le public ravi a quitté la salle du Cinema Center. Leur partition musicale envoûtante et jouée en direct sur "Ballet Mécanique" a su transcender les images hypnotiques du film de Fernand Léger en leur conférant un sentiment de mélancolie éternelle. En ouverture de la cérémonie, ce groupe avait déjà joué des compositions originales sur 8 films des Frères Lumière, certes plus enjouées, mais forcément plus courtes.
Le cocktail d'après-cérémonie aura été l'occasion de bavarder avec les gens que l'on sera amené à recroiser tout au long du festival, mais également d'assister à quelque chose de profondément mignon : la plupart des invités partis, les patients et dévoués volontaires du festival ont enfin pu profiter du buffet – du moins de ce qu'il en restait. Comme une sorte d'incarnation du proverbe français : "quand le chat dort, les souris dansent".
Au final, une cérémonie d'ouverture qui a donné hâte à tout le monde qu'arrive le lendemain pour pouvoir enfin découvrir la programmation !
Sébou/세부
En savoir plus :
– CINEMA: BISFF 2012 ;
– http://www.bisff.org (site officiel).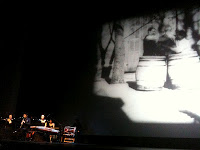 The opening ceremony of the 29th Busan International Short Film Festival has been held this Thursday, May 10, 2012 in the great theater of Cinema Center. Warm and well paced, the session alternated with films and speech of Busan City Mayor Nam-Sik Hur, of leaders of the festival (the President Na So-won, co-directors Kang Il-do and Yang Yong-chul) and members of the Jury (directors Dominique Cabrera, Byun Jung-joo and Jeon Gye-su). The second film broadcast was "L'air d'aimer", the first professional short film by Dominique Cabrera. On the stage, Dominique Cabrera informed the audience about her emotion to review this film. Indeed, it was for her the opportunity to see again the chief operator Roger Millie and editor Jean-Bernard Bonis now both deceased. It was also an opportunity to review on a screen her son Victor, just born during the shooting and already a movie extra – now, he's a a young filmmaker. Thus, she said, is revealed one of the reasons of the cinema : to freeze forever a moment in the time while allowing work of memory, as a humanitarian as well as for one's self.
But it is led by the melodies of "Bud", a fusion band of Busan, that the delighted audience left the Cinema Center. The captivating musical score and performed live of the band on "Ballet Mécanique", has transcended the hypnotic images of the film by Fernand Léger, giving them a sense of eternal melancholy. Previously, during the opening ceremony, the band had already played original scores on 8 films of Lumiere Brothers, certainly more playful but necessarily shorter.
The post-ceremony cocktail was an opportunity to chat with the people you will see again throughout the festival, but also to see something profoundly cute: most of guests gone, patient and dedicated volunteers of the festival were finally able to enjoy the buffet – at least what was left. As a kind of incarnation of the French proverb: "when the cat is asleep, the mice will play."
In the end, an opening ceremony that gives everyone a great envy to be the next day to finally discover the programming!
Sébou/세부
To learn more:
– CINEMA: BISFF 2012 ;
– http://www.bisff.org (official website).

Les derniers articles par Sébastien Simon
(tout voir)