Dernière mise à jour : mai 22nd, 2016 at 10:32 pm
Evelyn Glennie is a Scottish composer and virtuoso percussionist. Although deaf since age 12, she plays with both classical and contemporary musicians (including a duet on My Spine on the album Telegram of the Icelandic Björk), while sponsoring many associations assistance to young deaf musicians.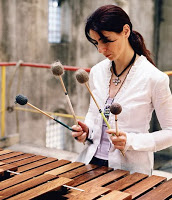 Shot at the TED (Technology Entertainment Design) conferences, which we will talk in a later post, the video below (subtitles available) shows Evelyn Glennie illustrating with differents instruments (drums, xylophone) how listening to music involves much more than simply letting sound waves hit your eardrums.
I need say no more and let you see and listen to the conference of this amazing artist Evelyn Glennie and in a bonus, her duet with Björk. Enjoy!
To learn more:

Les derniers articles par Jean-Christophe Nurbel
(tout voir)