Dernière mise à jour : avril 5th, 2019 at 01:36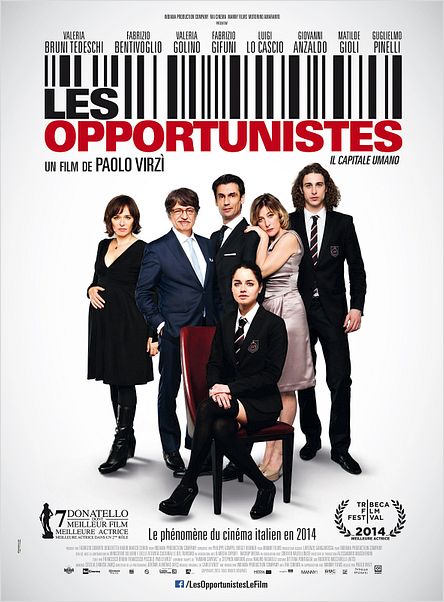 Les Opportunistes
,
Il capitale umano
en langue originale, est le phénomène actuel en Italie. Avec près de 6 000 000 d'euros de recettes et de multiples prix, le film réalisé par
Paolo Virzi
fait l'unanimité. En lice pour les prochains
Oscar
du meilleur film en langue étrangère, cette adaptation du roman
Capital humain
de
Stephen Amidon
a tous les atouts pour surprendre.
Human Capital, Il capitale umano in its original language, is the current phenomenon in Italy. With nearly 6 million euros in revenues and multiple awards, the film directed by Paolo Virzi wins unanimous support. In the list for the next Academy Award for Best Foreign Language Film, this adaptation of the novel Human Capital by Stephen Amidon has all the trumps to surprise.
More in English >> (Translation in progress, come bubble later)
Synopsis : Dans une ville non loin du lac de Côme en Italie, deux familles se déchirent. La première, les Bernaschi, est richissime tandis que la seconde, les Ossela, s'est lourdement endettée. Les tensions se cristallisent lorsque les cadets de chacune d'entre elles se rapprochent. Un soir de décembre, en rentrant de soirée, un accident de voiture va tout bouleverser.
Avec ce dernier film, Paolo Virzi prend le contrepied de ses précédentes réalisations. Alors que Chaque jour que Dieu fait axait son propos sur un phénomène social – la difficulté d'avoir un enfant -, Les Opportunistes récupère les codes du thriller américain pour l'adapter à la sauce italienne. Le cadre est sombre, les arcs narratifs sont transgressifs : il en ressort une singularité dans la mise en scène avec une mise en place lente et subtile puis un emballement soudain dans les péripéties dès l'incident déclencheur passé.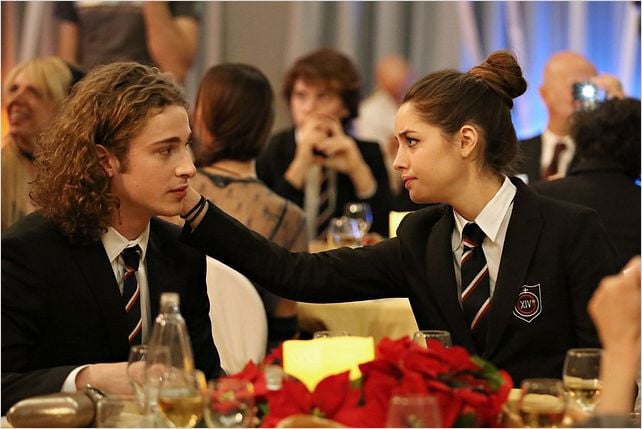 © Bac Films
La scène de l'accident de voiture entretient les non-dits et les mystères autour des deux familles. On touche très souvent au polar hitchcokien. Le suspens monte crescendo surtout lorsque le scénariste s'amuse à jouer avec les contraintes temporelles. En effet, il choisit de bousculer la chronologie de l'histoire et de raconter les mêmes scènes sous différents points de vue. Aussi, si la mère Bernaschi (Valéria Bruni Tedeschi) a du mal à comprendre les réactions de son fils qui rentre de soirée complètement alcoolisé, les subtilités de cette réaction étrange sont par la suite expliquées au spectateur en revivant l'intrigue sous l'angle de la petite copine de ce dernier, la jeune Serena (Matilde Gioli).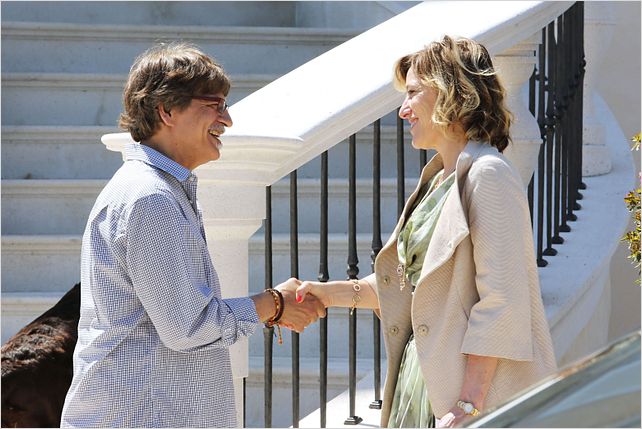 © Bac Films
L'histoire n'en oublie pas l'humour grâce notamment à la verve des acteurs principaux. On retient notamment une Valérie Bruni Tedeschi très en forme lorsqu'il s'agit d'insulter les automobilistes qui sont sur son passage juste avant de se rétracter et s'excuser platement. Très drôle également, la dernière scène dans l'Eglise où Fabrizio Bentivolglio, jouant le père Ossela, rencontre Valérie Bruni Tedeschi lors d'échanges burlesques.
Enfin, derrière l'intrigue principale, on retrouve dans ce film un œil acerbe du réalisateur face à la réalité économique de son pays. L'argent est le déclencheur de toutes les querelles. Les excès créent de l'orgueil tandis que le manque amènent à la dépendance. Il n'est donc pas étonnant que cette histoire ait trouvé sens dans le cœur des spectateurs italiens qui y voient, derrière les apparats de fiction, un portrait de leur situation actuelle. Il reste maintenant à convaincre le reste du monde avec une distribution dans 41 pays.

Antoine Corte
En savoir plus :
– www.bacfilms.com (site officiel du distributeur)

Les derniers articles par Antoine Corte
(tout voir)