Dernière mise à jour : avril 5th, 2019 at 01:34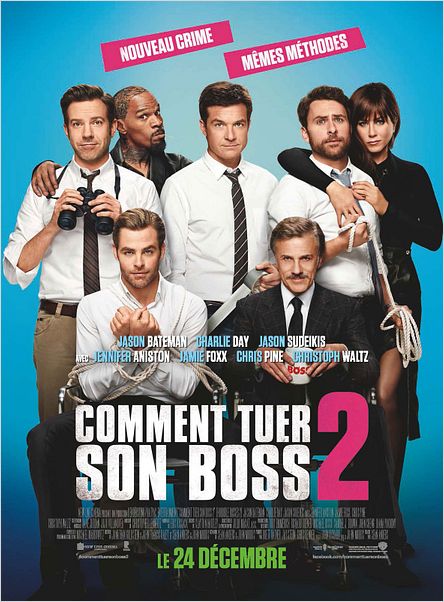 En 2011, les spectateurs découvraient dans
Comment tuer son boss ?
les péripéties comiques de trois acolytes, Nick (
Jason Bateman
), Dale (
Charlie Day
) et Kurt (
Jason Sudeikis
), pris au piège par leurs patrons qui leurs faisaient vivre un calvaire. Ils n'avaient dès lors d'autre choix que d'entreprendre de les liquider. Cependant, le meurtre n'étant pas la spécialité du trio ; ils étaient incapables d'accomplir leurs méfaits. Et c'est pour notre plus grand plaisir que nous les retrouvons aujourd'hui dans de nouvelles aventures :
Comment tuer son boss 2
.
In 2011, the audience discovered in Horrible Bosses the comic adventures of three buddies, Nick (Jason Bateman), Dale (Charlie Day) and Kurt (Jason Sudeikis), entrapped by their bosses who made them to go through a real ordeal. Therefore they had no choice but to try to kill them. But murder is not the specialty of the trio, they were unable to do it. And that is with great pleasure that we see them coming back today in new adventures: Horrible Bosses 2.
More in English >> (Translation in progress, come bubble later)
Synopsis :
Dégagés de contraintes salariales, les protagonistes décident de lancer leur entreprise grâce à la création d'un produit révolutionnaire : la Shower Buddy. Ils sont très vite repérés par un actionnaire, Bert Hanson (
Christoph Waltz
), qui leur passe une grosse commande. Cependant, par pure malhonnêteté, celui-ci annule son engagement à la dernière minute et décide de mettre sur la paille la petite société pour pouvoir la racheter. Nick, Dale et Kurt, très lourdement endettés, décident de kidnapper le fils de l'investisseur, Rex (
Chris Pine
), afin de demander une rançon conséquente.
Des gags réjouissants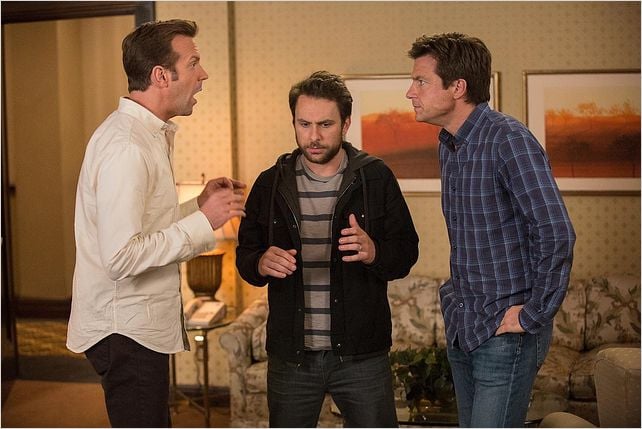 © Warner Bros.
À la tête de ce second opus, on retrouve en tant que réalisateur et co-scénariste le maître du rire du moment, Sean Sanders. Déjà à l'écriture du récent Dumd and Dumber De ou sur Les Miller, une famille en herbe, il conserve sa pâte humoristique puisqu'il réussit avec Comment tuer son boss 2 ? à livrer un feel good movie drôle et frais. Sans fibre artistique particulière, les scènes cocasses s'enchaînent au rythme d'une écriture déconstruite et délirante. On passe en effet d'un comique de situation autour d'un plateau télé où les inventeurs de la Shower Buddy miment un acte sexuel à une course poursuite déjantée dans laquelle les héros ne doivent surtout pas semer la police… quitte à attendre ces derniers aux abords d'une voie ferrée.
Un casting impressionnant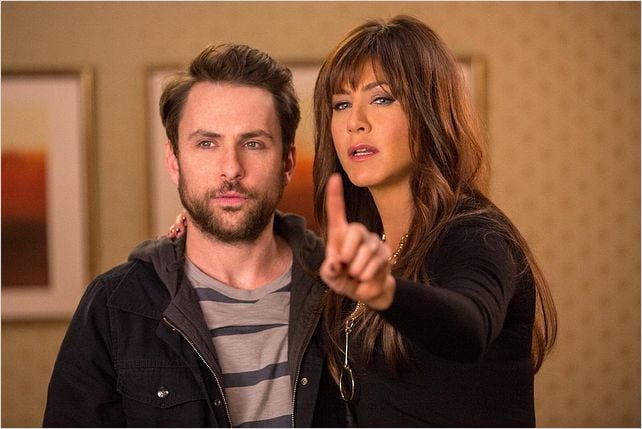 © Warner Bros.
Le film ne tiendrait pas si les acteurs initiaux avaient refusé de revenir. Outre les personnages principaux, les grandes stars d'Hollywood se sont données rendez-vous dans ce film pour tourner ce qui semble être pour eux un moment de récréation dans leurs carrières respectives. Le casting est en effet impressionnant : Kevin Spacey, Jamie Foxx, Christoph Waltz, Jennifer Aniston. L'écriture du film est d'ailleurs faite pour donner la part belle à chacune de ces pointures du cinéma. De ce fait, la construction dramatique donne un ensemble éparse, dans la veine d'un film à sketches, où chaque histoire semble dissociée. Néanmoins, la cohérence importe peu lorsqu'il s'agit de retrouver Jennifer Aniston qui se lâche complètement en nymphomane compulsive au cours d'une réunion d'addicts sexuels. Il en est de même pour un Kevin Spacey faussement introverti en prisonnier aigri.
Sans prétention aucune, ce film donne le sourire et laisse la porte ouverte à un troisième opus qu'on prendra plaisir à voir.
Antoine Corte
En savoir plus :
– https://www.facebook.com/commenttuersonboss?fref=ts (Facebook officiel)

Les derniers articles par Antoine Corte
(tout voir)