Dernière mise à jour : avril 9th, 2021 at 01:28 pm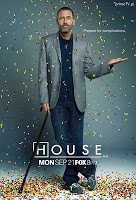 Gregory House is back : grand retour de notre médecin préféré (le cinéaste français Jean-Luc Godard himself en est fan !) pour une septième saison. Après l'avoir quitté dans les bras de la femme de sa vie (Lisa Cuddy), des pilules de vicodine plein les mains (écho de l'épisode 23 de la saison 5, "Under my skin"), allons-nous le retrouver pour de nouvelles aventures remplies de bonheur car c'est officiel, Cuddy et lui vont réellement entamer une relation amoureuse ?!
Première diffusion aux États-unis sur la chaîne de télévision américaine Fox ce lundi 20 septembre 2010.
Gregory House is back: big return of our favorite doctor (French filmmaker Jean-Luc Godard himself is a fan!) for a seventh season. After leaving him in the arms of the woman of his life (Lisa Cuddy) and with vicodin pills in his hands (echo of the episode 23 of season 5, "Under My Skin"), will we find him again for new adventures filled with happiness because it's official, Cuddy and him will actually start a relationship?!
First broadcast in the United States on the American channel Fox this Monday, September 20, 2010.
<
div style="text-align:justify;">Rappel : la décevante saison 6 avait magnifiquement commencer par la cure de désintoxication de House (Hugh Laurie) à l'hôpital psychiatrique Mayfield avant de peu à peu perdre de son intérêt. En effet, Cuddy (Lisa Edelstein) épanouie (enfant, fiancé et maison) et James Wilson (Robert Sean Leonard), le meilleur ami et souffre-douleur de House, remis avec son ex, nous donna la sensation que tous les personnages autour de House évoluaient pendant que lui s'enfonçait dans une posture de plus en plus cynique et narcissique, s'éloignant de son habituel pouvoir de séduction et de manipulation.
L'amusante scène de strip-tease de Cuddy fantasmée par House dans l'épisode 15 de la saison 4 ("House's Head – Part 1") semble donc promise à une suite dans cette septième saison et c'est avec un plaisir non dissimulé que nous attendons de voir comment House et Cuddy vont gérer cette histoire amoureuse très attendue (l'aide d'un psy semblera nécessaire si l'on se fit aux nombreux teasers présents sur le web) : "sleeping with your boss can be tricky", dit-on.
Enfin, les guest stars annoncés seront Matthew Lillard (un des psychopathes de "Scream"), Jennifer Grey (la Bébé de "Dirty Dancing") et Amy Irving ("Yentl", "Harry dans tous ses états", "Alias").
jici