Dernière mise à jour : juillet 3rd, 2019 at 11:04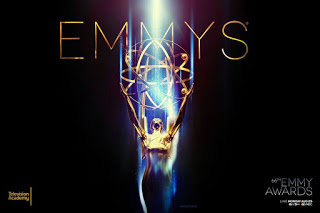 66ème édition des Emmy Awards. La crème de la série télévisée sera récompensée cette nuit. Allez au bout de la nuit avec Bulles de Culture puis consulter le palmarès final dès les premières lueurs du matin. Let's tweet again!
66th edition of the Emmy Awards. The cream of the TV series will be rewarded tonight. Go to the end of the night with Bulles de Culture and then consult the final list of the winners at the first hour of the day. Let's tweet again!
More in English >> (Translation in progress, come bubble later)
Le bilan de la soirée peut se résumer en 7 points :
– carton plein pour la dernière saison de Breaking Bad qui repart avec 5 prix dont trois de ses  comédiens récompensés (Bryan Cranston, Aaron Paul et Anna Gunn) ;
– récompense méritée pour Alicia Florrick alias Julianna Margulies pour une des meilleures séries actuelles (The Good Wife) ;
– finalement, un seul prix de réalisation pour la série qui a fait le plus gros buzz de l'année (True Detective) ;
– côté comédie, succès surprise de Modern Family au détriment de The Big Band Theory dont le prix de meilleure série comique ;
– coup de cœur mini-série pour Sherlock: His Last Vow avec notamment les deux comédiens récompensés ;
– deux prix horribles 🙂 pour American Horror Story : Coven ;
– enfin, hommage émouvant de l'acteur Billy Crystal à feu Robin Williams.
jici
Update: 2014/09/02
Le Palmarès / The Winners:
Meilleure série dramatique / Outstanding Drama Series
Breaking Bad (AMC)
Meilleure série comique / Outstanding Comedy Series
Modern Family (ABC)
Meilleur acteur série dramatique / Outstanding Lead Actor in a Drama Series
Bryan Cranston (Breaking Bad)
Meilleure actrice dans une série dramatique / Outstanding Lead Actress in a Drama Serie
Julianna Margulies (The Good Wife)
Meilleur scénario pour une série dramatique / Outstanding Writing for a Drama Series:
Moira Walley-Beckett (Breaking Bad, ep. Ozymandias)
Meilleur second rôle féminin dans une série dramatique / Outstanding Supporting Actress in a Drama Series
Anna Gunn (Breaking Bad)
Meilleur réalisateur pour une série dramatique / Outstanding Directing for a Drama Series
Cary Joji Fukunaga (True Detective, ep. Who Goes There)
Meilleur second rôle masculin principal série dramatique / Outstanding Supporting Actor in a Drama Series
Aaron Paul (Breaking Bad)
Meilleur téléfilm / Outstanding Television Movie
The Normal Heart (HBO)
Meilleur mini-série/ Outstanding Miniseries
Fargo (FX)

Meilleure actrice principale dans un film ou une mini-série / Outstanding Lead Actress in a Miniseries or Movie
Jessica Lange (American Horror Story : Coven)
Meilleur acteur dans un film ou une mini-série / Outstanding Lead Actor in a Miniseries or Movie
Benedict Cumberbatch (Sherlock: His Last Vow)
Meilleure réalisateur mini-série dramatique / Outstanding Directing for a Miniseries, Movie or a Dramatic Special:
Colin Bucksey (Fargo, ep. Buridan's Ass)
Meilleur second rôle masculin mini-série / Outstanding Supporting Actor in a Miniseries or Movie
Martin Freeman (Sherlock: His Last Vow)
Meilleure Actrice dans un second rôle mini-série ou Téléfilm / Outstanding Supporting Actress in a Miniseries or Movie
Kathy Bates (American Horror Story : Coven)
Meilleur scénario mini-série / Outstanding Writing for a Miniseries, Movie or a Dramatic Special
Steven Moffat (Sherlock: His Last Vow)
Meilleure actrice série comique / Outstanding Lead Actress in a Comedy Series
Julia Louis-Dreyfus (Veep)
Meilleur acteur dans une série comique / Outstanding Lead Actor in a Comedy Series
Jim Parsons (The Big Band Theory)
Meilleure réalisatrice série comique / Outstanding Directing for a Comedy Series
Gail Mancuso (Modern Family)
Meilleur second rôle féminin dans une série dramatique / Outstanding Supporting Actress in a Comedy Series
Allison Janney (Mom, ep. Las Vegas)
Meilleur scénario pour une série comique / Outstanding Writing for a Comedy Series
Louis C.K. (Louie, ep. So Did the Fat Lady)
Meilleur second rôle masculin dans une série comique / Outstanding Supporting Actor in a Comedy Series
Ty Burrell (Modern Family)
Live-tweet
Voilà, we're going to say the name of the winner #Emmys: Heisenberg!!! 😀 Merci @Canalsat @serieclub @BggrThnFctn Bonne nuit à tous !
— Bulles de Culture (@bullesdeculture) August 26, 2014
@Canalsat #Emmys Meilleure série dramatique / Outstanding Drama Series: Breaking Bad (AMC) Un final réussi !!! pic.twitter.com/Ua9e6FKjRi
— Bulles de Culture (@bullesdeculture) August 26, 2014
@Canalsat #Emmys Meilleure série comique / Outstanding Comedy Series: Modern Family (ABC) Succès surprise !
— Bulles de Culture (@bullesdeculture) August 26, 2014
@Canalsat #Emmys Meilleur acteur série dramatique : Bryan Cranston (Breaking Bad) Et de 4 pour une top série ! pic.twitter.com/pqvGqWGJ5Z
— Bulles de Culture (@bullesdeculture) August 26, 2014
@Canalsat #Emmys Dernière ligne droite !!!
— Bulles de Culture (@bullesdeculture) August 26, 2014
@Canalsat #Emmys Meilleure actrice dans une série dramatique : Julianna Margulies (The Good Wife) Pari #BdC réussi! Bravo Alicia Florrick !
— Bulles de Culture (@bullesdeculture) August 26, 2014
@Canalsat #Emmys Meilleur scénario pour une série dramatique / Outstanding Writing for a Drama Series: Moira Walley-Beckett (Breaking Bad)
— Bulles de Culture (@bullesdeculture) August 26, 2014
@Canalsat #Emmys Meilleur second rôle féminin dans une série dramatique Anna Gunn (Breaking Bad) Elle peut remercier Heisenberg now 😉
— Bulles de Culture (@bullesdeculture) August 26, 2014
@Canalsat #Emmys Meilleur réalisateur pour une série dramatique : Cary Joji Fukunaga (True Detective)
— Bulles de Culture (@bullesdeculture) August 26, 2014
Il avait remporté deux #Emmys. Un hommage bien mérité au magnifique #RobinWilliams rendu par son pote #BillyCristal pic.twitter.com/1oXTXNxu9z
— Canalsat (@Canalsat) August 26, 2014
@Canalsat #Emmys Meilleur second rôle masculin série drama : Aaron Paul (Breaking Bad) Dommage pour Will Gardner pic.twitter.com/Dh2659MnjD
— Bulles de Culture (@bullesdeculture) August 26, 2014
@canalsat #Emmys Meilleur mini-série : Fargo
— Bulles de Culture (@bullesdeculture) August 26, 2014
@Canalsat #Emmys Meilleure actrice principale dans un film ou une mini-série : Jessica Lange (American Horror Story : Coven)
— Bulles de Culture (@bullesdeculture) August 26, 2014
@Canalsat #Emmys et elles sont où les séries françaises ???
— Bulles de Culture (@bullesdeculture) August 26, 2014
@canalsat #Emmys Meilleur acteur dans un film ou une mini-série : Benedict Cumberbatch (Sherlock) Et 1, et 2, et 3, Sherlock !!
— Bulles de Culture (@bullesdeculture) August 26, 2014
@Canalsat #Emmys Meilleure réalisateur mini-série dramatique : Colin Bucksey (Fargo)
— Bulles de Culture (@bullesdeculture) August 26, 2014
@canalsat #Emmys Meilleur second rôle masculin mini-série : Martin Freeman (Sherlock) Jamais 2 sans 3 pour #Sherlock ?
— Bulles de Culture (@bullesdeculture) August 26, 2014
@canalsat #Emmys Meilleure Actrice dans un second rôle mini-série ou Téléfilm : Kathy Bates (American Horror Story)
— Bulles de Culture (@bullesdeculture) August 26, 2014
@canalsat #Emmys Meilleur scénario mini-série : Steven Moffat (Sherlock, épisode « His Last Vow ») Super surprise ! pic.twitter.com/ZPZZ81Dxxl
— Bulles de Culture (@bullesdeculture) August 26, 2014
@canalsat #Emmys Meilleure actrice série comique : Julia Louis-Dreyfus (Veep) Oups, 2ème pronostic #BdC loupé ! pic.twitter.com/wny4VKDg7J
— Bulles de Culture (@bullesdeculture) August 26, 2014
@canalsat #Emmys Meilleur acteur dans une série comique : Jim Parsons 1er pronostic #BdC réussi ! pic.twitter.com/I9jFESFpiA
— Bulles de Culture (@bullesdeculture) August 26, 2014
@canalsat #Emmys Meilleure réalisatrice série comique Gail Mancuso (Modern Family) pic.twitter.com/Re1ZYMcT51
— Bulles de Culture (@bullesdeculture) August 26, 2014
@canalsat #Emmys Meilleur second rôle féminin dans une série dramatique : Allison Janney (Mom)
— Bulles de Culture (@bullesdeculture) August 26, 2014
@canalsat #Emmys Meilleur scénario pour une série comique Louis C.K. (Louie, épisode « So Did the Fat Lady ») pic.twitter.com/nzwphUnmpV
— Bulles de Culture (@bullesdeculture) August 26, 2014
@canalsat #Emmys Meilleur second rôle masculin dans une série comique / Ty Burrell (Modern Family) pic.twitter.com/lburnDW1Q4
— Bulles de Culture (@bullesdeculture) August 26, 2014
#Emmys Hé voilà, c'est parti et c'est toujours en VO. Thx @Canalsat
— Bulles de Culture (@bullesdeculture) August 26, 2014
@Canalsat Pronostic ou Coup de coeur #Emmys Meilleure série comique The Big Bang Theory pic.twitter.com/bmJH8ovI1U
— Bulles de Culture (@bullesdeculture) August 26, 2014
@Canalsat Pronostic ou Coup de coeur #Emmys Meilleur acteur série comique Jim Parsons (The Big Bang Theory) pic.twitter.com/3mgx8x7rGa
— Bulles de Culture (@bullesdeculture) August 26, 2014
@Canalsat Pronostic ou Coup de coeur #Emmys Meilleure actrice série comique Amy Poehler (Parks and Recreation) pic.twitter.com/O6TDALifwP
— Bulles de Culture (@bullesdeculture) August 26, 2014
@Canalsat Pronostic ou Coup de coeur #Emmys Meilleur acteur principal dans une série dramatique Matthew McConaughey pic.twitter.com/Xr3EhfNFeN
— Bulles de Culture (@bullesdeculture) August 25, 2014
@Canalsat Pronostic ou Coup de coeur #Emmys Meilleure actrice principale série dramatique Julianna Margulies pic.twitter.com/uAK7LRY8sY
— Bulles de Culture (@bullesdeculture) August 25, 2014
@Canalsat Pronostic ou Coup de coeur #Emmys Meilleure série dramatique Breaking Bad pic.twitter.com/oZwyjCGIG5
— Bulles de Culture (@bullesdeculture) August 25, 2014
En attendant la cérémonie des #Emmys dans 25min, retour vers le futur continue sur @Canalsat : http://t.co/1O5KV0RzOU
— Bulles de Culture (@bullesdeculture) August 25, 2014
Des stars de séries US se mobilisent « contre » le Binge Watching et supportent donc l'évolution de l'UX des séries https://t.co/qAm4wQocfs
— Bigger Than Fiction (@BggrThnFctn) August 19, 2014
@Canalsat Yes, le show de @BarneyStinson commence !!
— Bulles de Culture (@bullesdeculture) August 25, 2014
#Emmys Les US ont le sens du show. À quand une cérémonie équivalente sur @canalplus, @Canalsat ou @serieclub ? 😉 pic.twitter.com/VrjPMwq1wW
— Bulles de Culture (@bullesdeculture) August 25, 2014
With 19 total… #Emmys @GameOfThrones pic.twitter.com/e3fLzys4zd
— HBO (@HBO) August 25, 2014
@antoine_corte @Canalsat Bon courage aussi à tous les tweeters qui feront comme Jici de #BdC !!! #Emmys pic.twitter.com/8QhL95s1wo
— Bulles de Culture (@bullesdeculture) August 25, 2014
Bon courage à JC qui est d'astreinte ce soir @bullesdeculture ! Moi je me matte un épisode de #mastersofsex et dodo !
— Antoine Corte (@antoine_corte) August 25, 2014
@Canalsat #Emmys #MadMen Saison 5, c'est maintenant sur @serieclub et http://t.co/3rFAuUcliS pic.twitter.com/pw5RZRbwNN
— Bulles de Culture (@bullesdeculture) August 25, 2014
#EmmyAwards2014 #Emmys #BdC C'est parti pour live-twitter ! / Let's tweet again! http://t.co/khALWaWeJc
— Bulles de Culture (@bullesdeculture) August 25, 2014
Ce soir dès 00h sur http://t.co/wFEjWez75r > les #EMMYS vous sont OFFERT en clair ! Quel acteur gagnera selon vous ? pic.twitter.com/X2pafPUekg
— Canalsat (@Canalsat) August 25, 2014
#EmmyAwards2014 #MeilleureSérie Barely Legal Pawn, feat. #BryanCranston, #AaronPaul and #JuliaLouisDreyfus http://t.co/Q1Z7LyVG61
— Bulles de Culture (@bullesdeculture) August 25, 2014
#EmmyAwards2014 Outstanding Comedy Series / Meilleure Série Comique http://t.co/jyieG6PbZw
— Bulles de Culture (@bullesdeculture) August 25, 2014
#EmmyAwards2014 Outstanding Lead Actor in a Drama Series / Meilleur Acteur dans une Série Dramatique http://t.co/tAvvHIJ8c3
— Bulles de Culture (@bullesdeculture) August 25, 2014
#EmmyAwards2014 Outstanding Lead Actress in a Drama Series / Meilleure Actrice dans une Série Dramatique http://t.co/eVzOycLTH3
— Bulles de Culture (@bullesdeculture) August 25, 2014
#EmmyAwards2014 Outstanding Lead Actor in a Comedy Series / Meilleur Acteur dans une Série Comique http://t.co/x3Yh7gKQOz
— Bulles de Culture (@bullesdeculture) August 25, 2014
#EmmyAwards2014 Outstanding Lead Actress in a Comedy Series / Meilleure Actrice dans une Série Comique http://t.co/VdS0f8hx1k
— Bulles de Culture (@bullesdeculture) August 25, 2014
#EmmyAwards2014 #Makingof http://t.co/NdzTwCkhUs
— Bulles de Culture (@bullesdeculture) August 25, 2014
La #meilleursérie entre #GOT #TrueDetective ou #BreakingBad ? #RDVcettenuit pour les #emmys offert sur CANALSAT.FR ! pic.twitter.com/crIGDruC4o
— Canalsat (@Canalsat) August 25, 2014
@canalsat Ne ratez rien des #EmmyAwards sur @bullesdeculture / #EmmyAwards don't miss anything on @bullesdeculture pic.twitter.com/lkuzcNIatI
— Bulles de Culture (@bullesdeculture) August 25, 2014
La cérémonie des #EmmyAwards ce soir sur @serieclub et en clair sur @Canalsat pic.twitter.com/P3We1zzEIJ
— Bulles de Culture (@bullesdeculture) August 25, 2014
En savoir plus /to learn more:
– http://www.emmys.com/ (site officiel / span style= »color: grey; »>official website)
– http://www.canalsat.fr/pid2440-evenement-emmy-award-direct.html (voir la cérémonie en direct et en clair / span style= »color: grey; »>to watch the ceremony in France)

Les derniers articles par Jean-Christophe Nurbel
(tout voir)