Dernière mise à jour : septembre 4th, 2016 at 09:57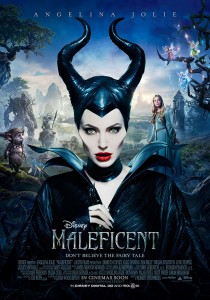 With this Maleficent by Robert Stromberg, the Walt Disney Company and Angelina Jolie (Mr. & Mrs. Smith, Salt) offer us an exciting rehabilitation of a mythical evil: the witch who had cast a spell on the Sleeping Beauty (1959). We pricked up our ears to watch it more closely.
Plot: Maleficent (Angelina Jolie) was a beautiful young woman with a pure heart, who lived an idyllic life in the peaceful kingdom of the forest, until one day, a human army threatens the harmony of her universe. So Maleficent becomes the most committed protector of her country, but a terrible betrayal made ​​her a woman with a heart of stone. Vowing revenge, she faces during a great battle the king of men, King Stefan (Sharlto Copley), and launches her curse on his daughter, Aurora (Elle Fanning), who is just born.
In recent years, Walt Disney Company went ahead to give a less smooth image of their princesses. Thus, there were for example the hairy Rapunzel (Tangled, 2010), the redhead Rebel (2012) and the icy Elsa (Frozen, 2013). On paper, the film Maleficent is therefore very promising. Especially this time, it is not an animated film, but a film with live action.
This film is the direction debut of Robert Stromberg, best known for his work on the sets of Avatar (2009) by James Cameron and Alice in Wonderland (2010) by Tim Burton, with two Oscar of Best Achievement in Art Direction for them.
The cast, in addition to Mrs. Brad Pitt, are safe bets: Sharlto Copley (District 9, Elysium) in the part of the villain King Stefan, Elle Fanning (Super 8) as Princess Aurora, Juno Temple (Killer Joe, Lovelace) as Fairy Thistlewit and Imelda Staunton (Harry Potter) as Fairy Knotgrass. All wrapped in a very fashionable stereoscopic 3D.
Impressions? The expertise of Disney Company is intact. The magic is still there: moments of the story really take us and the pleasure of reading again a tale of our childhood is there. However the omnipresence of the too explanatory narrator and the not quite nuanced characters leave us on the regret that this 3D movie would have benefited to be more deeper.
Official website: http://movies.disney.com/maleficent

Les derniers articles par Jean-Christophe Nurbel
(tout voir)