Dernière mise à jour : juillet 7th, 2016 at 07:32
Following our journey through the selection of French series by Festival Séries Mania. Today, Let us take another look at the next summer series by French television channel France 2: Hôtel de la plage by Fabienne Lesieur et Lorène Delannoy.
   

Synopsis :

In a seaside resort, five families stays every summer at Hôtel de la plage.
Hôtel de la plage:
a hotel with clichés?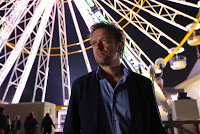 © Gilles Scarella FTV
© Gilles Scarella FTV
Well, with the usual clichés of such series (4 different families, including one uptight family and a family of proletarians ; problems between stepmother and stepdaughter ; the youth language galore…) and first scenes like French TV series Plus belle la vie or Sous le soleil (some writers have also worked on the latter), I almost took my legs to my neck when surprise, the uptight Martin (Jonathan Zaccai) began to hear the beginning of the song Qui De Nous Deux by French singer M when the teenager Carla (Juliet Lemonnier) showed her naked breasts, decorated with a snake, before going for a swim in the sea…
Series of 6×52min written with eight hands (Lorene Delannoy, Frédéric Faurt, Fabienne Lesieur, Marie Roussin), Hôtel de la plage (aka "Beach Hotel") have been screened in summer 2014 on French television channel France 2.
Inspired by the eponymous film by Michel Lang, released in 1978, this series lightly talks about stories of adultery, puberty, homosexuality, divorce and… it connects the stories of twenty characters.
This series hides some surprises:
Martin's uptight woman, Isabelle (Sophie-Charlotte Husson), which is a character close to the redhead Bree's Desperate Housewives;     
the young Lolita Carla who looks a little like Sara Forestier at her beginnings;     
a Martin in full midlife crisis whose visualized fantasies on the screen are always preceded by the music of the singer M.
Well, we less believe in the police intrigue added to dramatize the series but the charm of Karina Testa (Kaboul Kitchen, Odysseus) is still here.
Not easy to form an opinion totally decided on this series.
On one hand, it is the usual summer series with no surprise for family audiences.
But on the other hand, four characters, four actors (Jonathan Zaccaï, Sophie-Charlotte Husson, Karina Testa and Juliet Lemonnier) shows some bodies, some shots a little strange compare to usual family stories.
Only time will enable us to judge.
To be continued.. 🙂

Les derniers articles par Jean-Christophe Nurbel
(tout voir)