Dernière mise à jour : mars 25th, 2019 at 12:52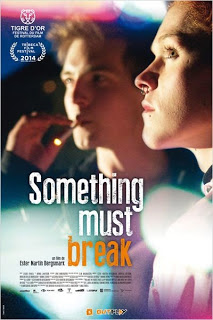 Premier long-métrage de fiction d'
Ester Martin Bergsmark
,
Something Must Break (Någonting måste gå sönder, 2014) aborde sans détour la sexualité transgenre
dans la lignée du mouvement
Queer Cinema
. Le film à l'esthétique baroque traite avec sensibilité de deux êtres à la découverte l'un de l'autre dans un Stockholm contemporain.
Something Must Break
a remporté un
Tigre d'Or
au
Festival du Film International de Rotterdam 2014
.
Ester Martin Bergsmark's first fiction film Something Must Break (Någonting måste gå sönder, 2014) deals with transgender sexuality in line with the Queer Cinema movement. The film develops a delicate and baroque aesthetics in contemporary city of Stockholm while telling the story of two human beings discovering each other. Something Must Break won a Tiger Award at International Film Festival Rotterdam 2014.
More in English >> (Translation in progress, come bubble later)
Synopsis
: Sebastian (
Saga Becker
) mène une vie de femme dans un corps d'homme. Sa rencontre avec Andreas (
Iggy Malmborg
) est un coup de foudre, mais ce dernier hésite à s'investir dans une relation qu'il n'assume pas vis-à-vis de ses proches. Glissement progressif de l'affirmation d'une identité, Sebastian décide alors de devenir Ellie et – avec ou sans son amant – d'embrasser cette nouvelle vie qui l'attend.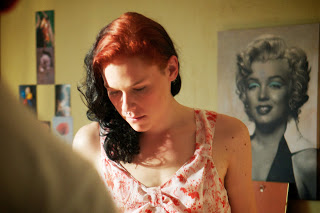 © D.R.
Précédemment remarquée avec Maggie in Wonderland (2008) pour lequel elle a obtenu le Guldbagge (César suédois) du Meilleur Documentaire, Ester Martin Bergsmark adapte avec brio le livre You Are The Roots That Sleep Beneath My Feet And Hold The Earth In Place de l'écrivain Eli Levén, personnalité également sujet du documentaire She Male Snails produit en 2012.
Ester Martin Bergsmark : « Mes films sont accessibles. Ils s'adressent à nos démons intérieurs et leur tendent la main. Ils proposent à votre personnalité cachée de se révéler au grand jour ».
© D.R.
En parallèle d'une vision naturaliste de la capitale suédoise dont on ne voit ici que la zone industrielle et sa vie de précarité, Something Must Break filme au plus près des corps la rencontre amoureuse entre Sebastian, personnage androgyne en quête de sensations fortes, et Andreas, devenu l'objet de ses désirs. Leur idylle agit tel un rai de lumière dans le film.
Depuis She Male Snails, Ester Martin Bergsmark collabore étroitement avec la directrice de la photographie Minka Jakerson pour donner un aspect graphique « incarné » à ses films. Grain de peau, effets de matières et de couleurs sont prégnants, notamment lors des rencontres nocturnes de Sebastian/Ellie avec des inconnus, inserts visuels à mi-chemin entre onirisme et réalité.
Il a fallu deux ans de recherches à la réalisatrice pour trouver l'actrice capable d'endosser le rôle exigeant de Sebastian/Ellie. Premiers pas au cinéma réussis pour Saga Becker, qui porte en elle l'émotion et la fébrilité nécessaires à son personnage, tout en jouant de sa féminité émaciée.
GwenfromNY
En savoir plus :
– http://www.outplayfilms.com/?p=869 (le site officiel du distributeur)

Les derniers articles par Gwenaëlle L.P.
(tout voir)