Dernière mise à jour : septembre 10th, 2016 at 11:26 am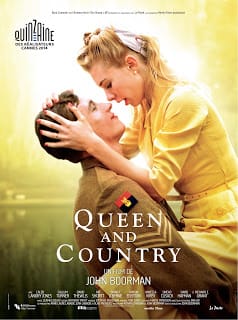 Après avoir filmé le Blitz à hauteur d'enfant dans
Hope and Glory
(
1987), le réalisateur
John Boorman
se rappelle ses années de jeunesse sous les drapeaux pendant la
Guerre de Corée
:
Queen and Country
.
After filming the Blitz as a child in Hope and Glory (1987), the director John Boorman remembers his youth under the flags during the Korean War: Queen and Country.
More in English >> (Translation in progress, come bubble later)
Synopsis :
1952. Bill Rohan (
Callum Turner
) a 18 ans et l'avenir devant lui. Pourquoi pas avec cette jolie fille qu'il aperçoit sur son vélo depuis la rivière où il nage chaque matin ? Cette idylle naissante est bientôt contrariée lorsqu'il est appelé pour effectuer deux années de service militaire en tant qu'instructeur dans un camp d'entraînement particulièrement dur qui prépare les jeunes soldats anglais à des missions en Corée. Bien vite, Bill se lie d'amitié à Percy Hapgood (
Caleb Landry Jones
), un farceur dépourvu de principes avec lequel il complote pour tenter de faire tomber de son piédestal leur bourreau : le psychorigide sergent Major Bradley (
David Thewlis
). Tous deux parviennent néanmoins à oublier l'enfermement à l'occasion de rares sorties. Ils tombent vite amoureux de jeunes femmes croisées un soir au cinéma. Mais comment concilier discipline et premières amours ?
© Sophie Mutevelian
Queen and Country est donc un nouveau film d'inspiration autobiographique de John Boorman : le petit Rohan de Hope and Glory a grandi, il a maintenant 18 ans et la guerre est à nouveau dans sa vie. Comme pour son précédent opus, Boorman s'intéresse à ce qu'il se passe, loin de la guerre. Après le Londres bombardé pendant la Seconde Guerre Mondiale, il plante sa caméra au milieu d'un camp militaire très loin de la guerre. Ce qui peut frustrer un peu le spectateur surtout que le début du film est une sorte de Full Metal Jacket anglais (1987) avec le dur entraînement des jeunes recrues sous les cris de leurs supérieurs. Mais très vite, nous comprenons que le personnage principal n'ira jamais en Corée. Bill et son ami Percy sont bloqués en Angleterre et vont tuer le temps en compagnie d'officiers rabat-joie et peu compréhensifs devant le besoin de vivre de la jeunesse.
Si le réalisateur ne se prive pas de transformer certains faits (comme le vol de l'horloge), le film est une chronique de deux jeunes hommes, entre travail à la caserne et plaisir lors des permissions (en ville ou dans la famille de Bill). Le film nous fait revoir avec plaisir certains personnages de Hope and Glory comme la mère et la sœur de Bill. Cette dernière est toujours aussi fantasque.
On peut reprocher au film un fil conducteur un peu lâche avec cette simple description d'une tranche de vie mais il restera le plaisir de se replonger dans une époque pas si lointaine.
jici
En savoir plus :
– http://www.le-pacte.com/france/prochainement/detail/queen-and-country/ (site du distributeur français)

Les derniers articles par Jean-Christophe Nurbel
(tout voir)