Dernière mise à jour : mai 18th, 2018 at 05:56 pm
When the British and longhaired director Richard Ayoade, actor of the excellent English geek series The IT Crowd (2006-2013) meets American screenwriter Avi Korine, brother of Harmony Korine (Spring Breakers), and makes a science fiction film adapted from a short story by the Russian writer Fyodor Mikhailovich Dostoyevsky with Jesse Einsenberg (The Social Network, Now You See Me) and Mia Wasikowska (Maps to the Stars) in the leading parts, of course we really want to see this The Double (2013).
    
Plot:

Office worker, Simon (Jesse Einsenberg) is despised by his mother (Phyllis Somerville) and rejected by the woman of his dreams, Hannah (Mia Wasikowska). The arrival of a new colleague, James, will change everything in his life for if the latter is his perfect double, he is also his exact opposite: confident, charismatic and charming
    
The Double,
a story so conventional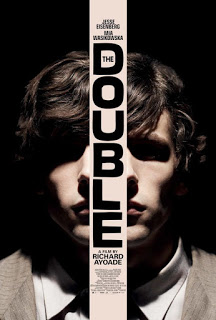 The Double is the second film from director Richard Ayoade. For this film, he has surrounded himself with two young and talented actors: Jesse Einsenberg and Mia Wasikowska. This is confirmed by the "double" interpretation of Jesse Einsenberg which is successful as technically as in terms of play.
On the script side, this adaptation of Dostoevsky by Richard Ayoade offers us a strange and futuristic universe where the visual and the atmosphere remind us Brazil (1985), Kafka's The Trial (1925) and Orson Welles' The Trial (1962), Alphaville (1965) by Jean-Luc Godard and Fight Club (1999) by David Fincher.
Despite this beautiful melting pot of influences, this English science fiction film does not suffocate thanks to its visual but it's too bad that the story is so conventional and that at the end, the result is not entirely convincing.
To learn more:
French release: 08/13/2014
French film distributor: Mars Films

Les derniers articles par Jean-Christophe Nurbel
(tout voir)