Dernière mise à jour : décembre 16th, 2019 at 03:32
Le collectif québecois
Les 7 doigts de la main
présente sa dernière création
Cuisine et Confessions à la Cigale
jusqu'au 3 janvier 2015. C'est dans leur cuisine que vont se mitonner les petits plats, que vont s'engranger les souvenirs et qu'on va se mettre à table, au propre comme au figuré.
The québecois collective Les 7 doigts de la main presents its latest creation Cuisine & Confessions at La Cigale (Paris, France) until January 3, 2015. It is in their kitchen where we will cook the best dishes, build memories and sit down, literally and figuratively.
More in English >> (Translation in progress, come bubble later)
Ayant pour nom un jeu de mots illustrant l'unité de ses membres, le collectif
Les 7 doigts de la main
évoluent avec sept co-directeurs artistiques aux commandes d'un collectif d'acrobates, de jongleurs, de danseurs, de contorsionnistes, d'acteurs, de musiciens… qui ne cesse de grandir depuis 10 ans et qui parcourt le monde, avec pour objectif la visée artistique d'
un cirque d'auteur
.
Dans Cuisine & confessions, Les 7 doigts de la main ouvre toute grande la porte de leur cuisine
, accueillant le public dans une salle déjà emplie d'odeurs appétissantes, alors que les artistes s'activent autour d'une longue tablée, qui sert autant de plan de travail que de scène.
C'est, en effet, dans une cuisine modulable au rythme de ses numéros que le collectif, véritable auberge espagnole de jeunes talents, nous propose un voyage gustatif au pays du souvenir.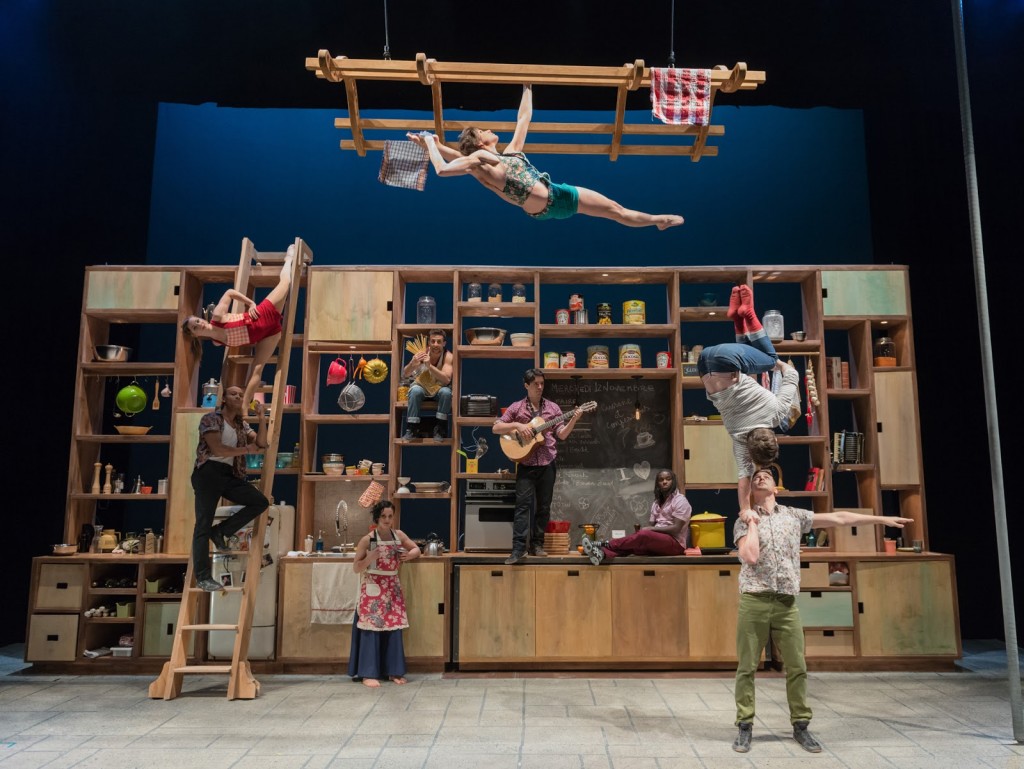 © Alexandre Galliez
De madeleines de Proust en acrobaties vertigineuses, de recettes de grand-mère (cuisinées en fond de scène) en jonglerie, de témoignages poignants en danses sensuelles et hypnotiques dans la farine… cette création nous met les sens en éveil. Ça sent bon ! Les papilles sont excitées, les oreilles se délectent d'une BO sans fausse note, on en prend plein les mirettes !
Faisant se succéder habilement secrets d'enfance, poésie du mouvement, humour de la langue et acrobaties à vous couper le souffle, ce spectacle de cirque contemporain est, à l'image de sa troupe, joyeusement barré et profondément touchant.
Cuisine & Confessions est un vrai moment de partage de saveurs et d'histoires à la fin duquel les spectateurs sont invités à goûter le pain aux bananes qui a été préparé pendant la représentation. Un vrai régal !
À savourer à la Cigale jusqu'au 3 janvier 2015.
Elsa
En savoir plus :
– http://m.lacigale.fr/spectacle/cuisine-confessions/ (site officiel de la Cigale)
– http://7doigts.com/ (site officiel de Les 7 doigts de la main)

Les derniers articles par Elsa V.
(tout voir)