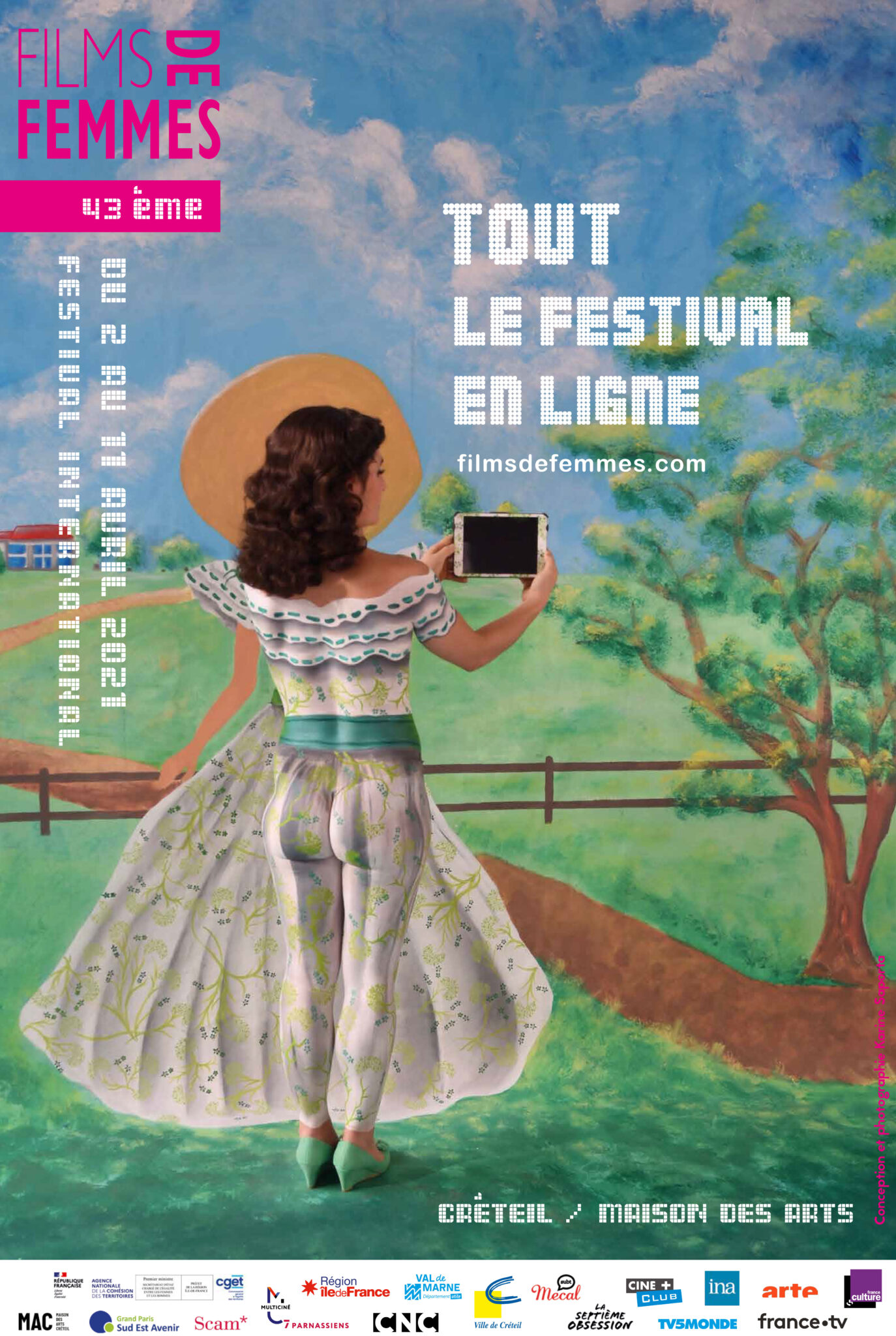 Festival Films de Femmes 2021 du 2 au 11 avril (en ligne)
Le Festival International de Films de Femmes de Créteil a lieu entièrement en ligne du 2 au 11 avril 2021.
Il propose 3 compétitions :
Festival Films de Femmes 2021 : la compétition courts-métrages
AFTER US de Inna Tsgoeva (Russie-Italie, doc, 2020, 15')
AKA de Dorothée Murail (France, art vidéo, 2020, 15') – (Photo*)
CRAB de Shiva Sadegh Asadi (Iran, Animation, 2020, 11')
THE FANTASTIC de Maija Blåfield (Finlande, Doc, 2020, 30')
HER PAINTING de Olga Papacz (Pologne, doc, 2020, 8')
JESA de Kyungwon SONG (USA/Corée du Sud, doc, 2019, 7')
PAOLA MAKES A WISH de Zhannat Alshanova (Kazakhstan, Fiction, 2019, 8' )
PRINCESSES de Margaux Elouagari (France, Fiction, 2020, 24')
TROIS FEUILLES (Twa Fèy) d'Éléonore Coyette et Sephora Monteau (Haiti/Belgique, Animation, 2020, 28')
ULYSSE DOIT PARTIR d'Anna Belguermi (France, fiction, 2020, 13')
La compétition documentaires
AILLEURS, PARTOUT d'Isabelle Ingold, Vivianne Perelmuter (Belgique, 2020, documentaire, 1h03)
BOCA CIEGA d'Itziar Leemans (France, 2020, 1h05)
L'ILE DES PERDUS de Laura Lamanda (France, 2020, 1h15)
IMMORTAL de Ksenia Okhapkina (Estonie-Lettonie, 2019, 1h01)
I LOVE YOU I MISS YOU I HOPE I SEE YOU BEFORE I DIE d'Eva Marie Rødbro (Danemark, 2019, 1h19)
RADIOGRAPHIE D'UNE FAMILLE de Firouzeh Khosrovani (Norvège/Iran/Suisse, 1h25)
La compétition longs-métrages fiction
A REGULAR WOMAN de Sherry Hormann (Allemagne, 2019, 1h36)
A THIEF'S DAUGHTER (La hija de un ladrón) de Belen Funes (Espagne, 2020, 1h42)
IN THE MIRROR de Laila Pakalnina (Lettonie, Lituanie, 2020, 1h25)
MARE d'Andrea Staka (Belgique, 2020, 1h35)
ZANA d'Antoneta Kastrati (Kosovo-Albanie, 2019, 1h37)
LA RIVIÈRE SANS REPOS de Marie-Hélène Cousineau et Madeline Ivalu (Canada, 2019, 1h39)
LA VOIX D'AÏDA (Quo Vadis, Aïda ?) de Jasmila Žbanić (Bosnie-Herzégovine, 2020, 1h43)
La soirée d'ouverture du festival est consacrée au film l'Eden d'Agnes Kocsis. La soirée de clôture proposera Détruire dit-elle de Marguerite Duras.
L'actrice Aïssa Maïga est l'invitée d'honneur. L'actrice et  réalisatrice Nicole Stéphane fait l'objet d'une rétrospective de ses plus beaux films. Enfin, un hommage sera rendu à la cinéaste Cécilia Mangini, la première en Italie à avoir réalisé des documentaires dans l'après-guerre.
Avec la sélection Héritage/transmission, le festival devient également un lieu de mémoire à travers 10 films rappelant des parcours individuels ou collectifs :
LEUR ALGERIE de Lina Soualem (France/Algérie, doc, 2020, 1h12)
LINA FROM LIMA de María Paz González (Chili/Pérou/Argentine, fiction, 2019, 1h23)
SHUT UP SONA de Deepti Gupta (Inde, doc, 2020, 1h25)
LA ÚLTIMA PRIMAVERA de Isabel Lamberti (Pays-Bas, Espagne, Fiction-doc, 2020, 1h17)
WHEN THE CAMERA STOPPED ROLLING de Jane Castle (Australie, doc, 2020, 1h15)
LES YEUX OUVERTS (De Olhos Abertos) de Charlotte Dafol, (Brésil, doc, 2020, 1h30)
BLACK FEMINIST de Zanah Thirus (USA, doc, 2019, 53')
FAT FRONT de Louise Detlefsen et Louise Unmack Kjeldsen (Danemark/Suède/Norvège, doc, 2019,1h27)
GENDERATION de Monika TREUT (Allemagne, documentaire, 2021, 1h30)
Y DESPUES de Pamela Varela (Chili, France, documentaire, 2020, 1h36)
En savoir plus :
– Tarifs
Pass 15€ (en prévente à partir du 24 mars)
Billet à l'unité 3€ (à partir du 2 avril)

Les derniers articles par Antoine Corte
(tout voir)